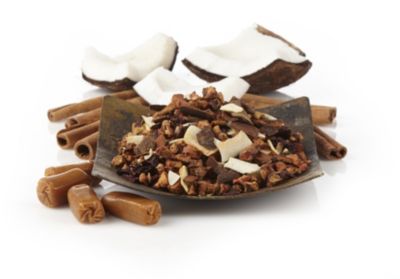 Caramel Almond Amaretti
Manufacturer: TEAVANA
Type: Herbal tea
Leaves: A mix of candied almond bits, cinnamon, dried apple, and coconut.
Liquor: Vibrant red
Aroma: Caramel, almonds, coconut, faintly cinnamon
Flavor: Caramel and almonds with softer hints of sweet cinnamon, candied apple, coconut
Body: Rich and full
Caffeine Level: None
Brewing Time: 5-6 minutes
Brewing Temperature: 208° F
Sold As: Loose leaf tea
Where To Buy: TEAVANA (I purchased mine in their local store.)
Rating: 
When I went to the mall I had no intention of buying any tea but when I saw the wall of wondrous blends at the TEAVANA store I was all but pulled inside.  The staff was very friendly and helped me narrow down two teas to try after offering me samples of a wealth of delicious teas. I almost chose another blend over this one when I was picking out my purchases. However, I am a little biased towards tea with cinnamon or caramel bases and this checks off both those boxes and won out in the end.
It was perhaps one of my best indulgent tea purchases I've made. What a delicious tea and a treat to drink! Caramel Almond Amaretti has a very complex flavor profile that left me wanting more when my cup was empty. (And I followed that urge with a second serving!) According to a friend of mine it smells like cupcakes and I find it hard to disagree with such a suggestion. This is a sweet, rich tea that satisfied my fondness for desserts without the crumbs or having to bake anything! (Much less the calories of a cupcake!) I can't stop recommending it to people. Though if you prefer more earthy notes to your herbal teas or more bitter flavors this is unlikely to be the tea for you.