"Waiting On" Wednesday is a weekly meme hosted by Jill @ Breaking the Spine.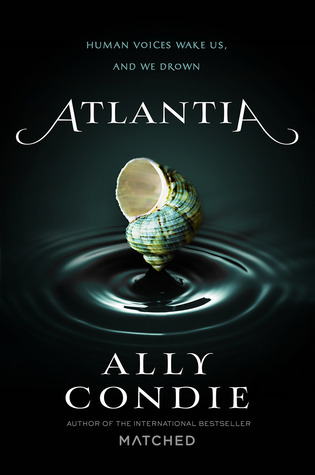 Atlantia
Author: Ally Condie
Release Date:  October 28th, 2014
Publisher: Dutton Children's
Genre(s): YA, Sci-fi/Fantasy, Dystopia
Pre-order: Amazon
For as long as she can remember, Rio has dreamt of the sand and sky Above—of life beyond her underwater city of Atlantia. But in a single moment, all her plans for the future are thwarted when her twin sister, Bay, makes an unexpected decision, stranding Rio Below. Alone, ripped away from the last person who knew Rio's true self—and the powerful siren voice she has long hidden—she has nothing left to lose.

Guided by a dangerous and unlikely mentor, Rio formulates a plan that leads to increasingly treacherous questions about her mother's death, her own destiny, and the complex system constructed to govern the divide between land and sea. Her life and her city depend on Rio to listen to the voices of the past and to speak long-hidden truths.
Okay, seriously October what is going on with you? This is the third October release I'm fawning over in the past month! I'm going to get absolutely nothing done that month besides reading! Which isn't the worst way to spend your time. 🙂
I was drawn in by the cover on this one; I love the ocean and anything sea related has me instantly interested. And then that tag line above the title? I had the brief flicker of some Lovecraftian YA but the synopsis, even lacking eldritch horrors or mermaids, was so exciting! Twins? Dystopian? Under the sea? Twins separated with one stuck in a place that reminds me of Rapture (Bioshock is one of my favorite games!) and another in the wasteland above?
I need this in my life! I am stoked! October can't come soon enough!